Join us Tues 13 May for one of our most popular workshops exclusively for women.
Remember that day you hesitated outside your boss's office…about to walk in and ask for a pay rise…nervous, with no idea where to start…or when you were about to walk into that interview for your dream job….
Well, imagine on the other side of the door was not your boss or the interview panel, but a desperate person threatening to jump out of a 10th storey window. That's where hostage negotiator Richard Mullender learned to communicate. And in this workshop he will share with you the secrets he learned about listening and influencing – and getting the outcome you want. Learn how to build rapport, win trust and exert influence, working with former Scotland Yard hostage negotiator, Richard Mullender.
In this workshop you will have the opportunity to gain skill that will help you to:
Go into negotiations with the confidence and skills to communicate masterfully

Know how to get the results you want out of difficult conversations or high-pressure situations

Bring energy and enjoyment to networking events – no more awkward silences

Develop your natural personality and style to create high-level assertiveness skills

Persuade with greater power and confidence
If you require a travel or childcare bursary or have any questions please contact us on info@thecircle.org.uk
Here is what others had to say about this workshop:
It was a fantastic event with a speaker who really got us thinking about "listening" from a completely different angle. He included lots of practical tips that I've been using in my job subsequently. – Laura Steele, Programmes Manager, Student Hubs
I found the talk fascinating and highly insightful. Richard was funny and personable and the learning that I will not forget from the evening is that making communication with people positive is our responsibility. Bad communication may not be our fault, but it is certainly our responsibility to make it as best as can be. – Lauren Tobias, Chief Executive, Volunteer Centre Hackney
---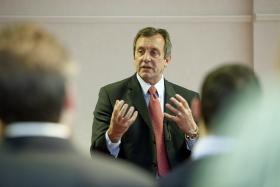 This unique workshop is led by Richard Mullender, former Lead Trainer at the Scotland Yard National Crisis & Hostage Negotiation Unit. Richard is an expert in elite-level listening skills – with a lifetime's experience tackling communication challenges at the sharp end. He has trained staff at the Metropolitan Police, the United Nations and the FBI as well as corporate sector clients such as Oracle, Accor Hotels and the BNP Paribas, helping them to develop their listening skills and use of language to build rapport, establish trust and exert influence in the workplace.
---
| | |
| --- | --- |
| | We'd like to thank Viva Women at razorfish for their generous support and for hosting this workshop. Find out more: http://www.razorfish.com/ |